Uniting The Body Of Christ To Reach The World !!
In early 1995, the vision was to bring Christians of different denominations and backgrounds together for a one-night prayer service. On September 29, 1995, Executive Director Brian Jenkins along with the Zion Prayer Band of Ardmore held an all night worship and prayer service from 10:00 PM till 4:00 AM.
The service was based around the theme of Gideon from the 6th & 7th Chapters of the Book Of Judges whom God chose 300 men for Gideon to fight against the war of the Midianites. That night 300 Christians came together, unconcerned of their separate ways they practiced their faith; but focused on the commonality they had in Christ, and their desire to pray for the needs of others.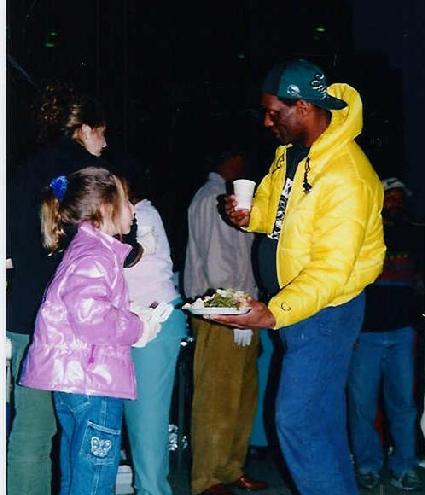 Youth Volunteer Gives Fork & Napkin To Homeless Person For His Evening Meal
It was Father's Day 1996.

Brian had just come out from seeing a play at the Merriam Theater in Philadelphia.

There he was, Mr. Jones, he called himself.

A dark skin man with long hair that had not been combed for a while.

For a shirt he wrapped a torn blanket half way around him exposing his skin that stretched across his meatless ribs.

His pants were stained and to hold them up was a rope that he had found.


We talked with Mr. Jones, sharing with him the love of Jesus Christ that evening. The homeless man asked if they had anything to give. All there was to share was forty-cents. We gave Mr. Jones the forty cents and talked to him for about 15 to 20 minutes. The homeless man asked them, "Do you have a testament?" It took a moment but they finally we realized he meant a bible. Brian had only his own personal study bible, but promised Mr. Jones he would bring him one the next day. Brian said to Mr. Jones, "I wish that we could have given you more." Mr. Jones replied, "But You Considered Me."

A couple of days later, Brian rushed home from work and made about forty bagged lunches. Brian left the house around 7pm and headed into Center City to the corner of Broad and South; that's where he told him where he would be. He gave him two of the bagged lunches and the Bible he asked for. Brian proceeded to walk the streets of Center City passing out bagged lunches to homeless people in need of food.
At the end of the evening I came to 16th & The Benjamin Franklin Parkway and saw 10 homeless people sitting on benches and we only had 5 bagged lunches left. They began to pass them out not knowing what would happen; the homeless people began to divide the lunches amongst themselves. Brian never saw Mr. Jones again, but stated, "I see the smile he had on his face that night every time I see the smile of another homeless person we reach."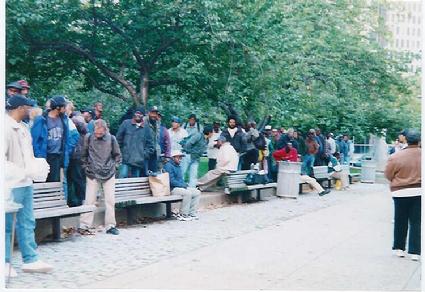 Homeless Persons Stand In Line for Meal At 16th & Benjamin Franklin Parkway
For the next few Wednesday evenings we continued to go into Center City Philadelphia to pass out bagged meals to homeless people. Within one month we had increased to serving 100 meals. Brian began to tell the homeless to meet them at 16th & Benjamin Franklin Parkway in Philadelphia so they could begin serving full course meals on Wednesday nights. Chicken was the meat of choice along with potatoes, mac & cheese, string beans, salad, bread, desert and a drink. It was then Brian became affectionately known as The Chicken Man.
Since that Tuesday in 1996, Chosen 300 now distributes more than 150,000 meals a year to the homeless of Center City Philadelphia; There are now 115 Churches and organizations, from different denominations & races that are part of the Chosen 300 Alliance to serve the homeless in Center City and West Philadelphia, Pottstown, PA and around the world including India, Nigeria, Guyana, South Africa, Jamaica, Liberia, Ghana & Uganda. Chosen 300 is have also established a Prison Outreach Program in Montgomery County & Delaware County Prisons; and are the lead sponsors in two local Basketball Mentoring Programs.